Stuff.
Jun 07
THE STRANGERS YOU KNOW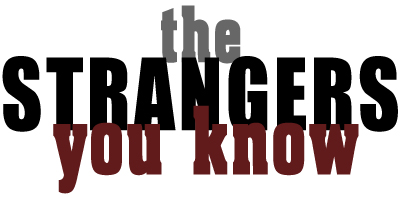 you know
that the girl who gets on at Boundary St
prefers the window seat
and likes to press her cheek
against the cool glass
 
you know
that the elderly lady in the blue coat
does her shopping on Fridays
and is finding it increasingly difficult
to navigate the stairs

Tiff (the blue haired girl) has a giant crush
on Alex, whose girlfriend works at Woolies
with Tiff's best friend Mandy, and this weekend
they're all going to be at this party at Nate's place
and OMG it's like, so excitiiiiing!!!

from what you've overheard at the coffee shop
you know
that the bald man's name is John,
that he likes his coffee strong and hot,
and that his ex-wife is the devil incarnate

you know
that the blonde woman who gets off at floor 12
smells like lavender
and not to get on with the man with the bow tie
who smells like nothing on this earth

what you don't know
is why these people come to mind
when the doctor has finished his sentence
and why you are wondering
how well they know you
and if they'll miss you when you're gone
Jun 06
Innocent bunnies.
Jun 05
Jump!
Jun 04
I'm having an affair with the sun. I leave the window open during the day so he can climb in slowly to spend the night.
Jun 03
If only I could paint a landscape, I said.
she touched the lamp post for luck every morning as she walked past on her way to work
Luke

Consider me educated.